Address: Unit 5 / 36 O'Riordan Street Alexandria NSW 2015 / Australia
Tel: (02) 8065 5614 | Opening Hours: Mon - Fri 9am - 5pm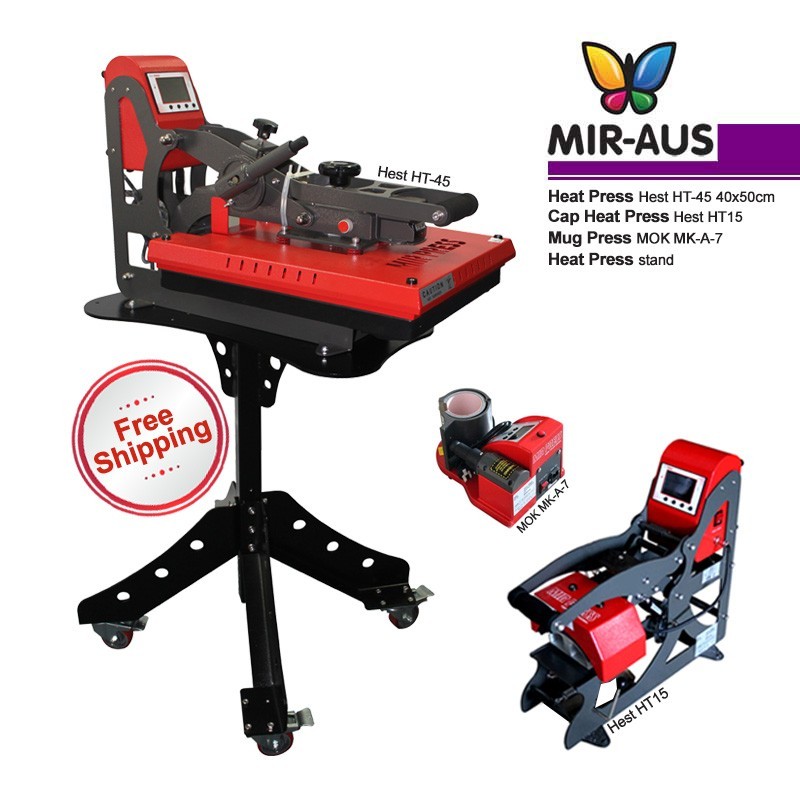  
Heat Press package two
Reference:
heat press package-2
heat press Hest HT-45 use for T-shirt and sublimation, Digital heat press machine
Mug heat Press MOK MK-A-7
Cap heat press Hest HT15
Stand for hest heat press
Return policy
Purchases can be returned within 30 days, without any explanation
Same business day dispatch,
Fast and Reliable Shipping
Security policy
We use modern SSL to secure payment
MIR-PRESS Digital heat press machine use for t-shirt transfer, sublimation and vinyl
MIR-AUS T-shirt Heat Press 40x50cm:
Overview:
Name: "Hest" Heat Press
Code: HT-45
Machine Type: Auto Release, Clamshell
Platen Size: 16"*20"(40*50cm)
Under Plate: Exchangeable
Controller: Digital Time & Temp.Control
Printable Articles: Up to 15mm Thickness
Opening Angle: 50 degrees
Gas Spring Control: Yes
Voltage: 120V/ 220V
Power: 15: 1.5KW/ 1.8KW; 20: 1.6KW/ 1.8KW
Time Range: 0-999 sec
Maximum Temp: 225 C
Temperature Accuracy: ±0.5%
Packing Size: 91*53*56 cm
Net Weight: 48.55 kg
Gross Weight: 51.55 kg
1-year warranty on entire press
MOK
Mug Heat Press 11 OZ. Mugs
Overview:
Name: "MOK-A"
Code: MK-A-7
Electric full Transfer Mug Heat Press
Model No.: MIR-MP-99
Controller: Digital time & Temperature controller

Suit for: 11oz Full Transfer

Maximum Temperature: 230'
Time Range: 0-999 seconds
Machine Type: Semi-Auto
Frequency: 50-60Hz
Voltage: 110V / 220V
Power: 260W
Temperature: Accuracy ±0.5%
Gross Weight: 6.44 Kg
Net Weight: 5.44 kg
Packing size: 37*28*26 cm
Include:
1 x Mug Press Machine
1 x straight heating collar
Cap hat Heat Press Hest HT15
Overview:
Special Design, make difference with normal cap press!
A durable cap press with digital time & temperature control. The auto open feature enables you to multi-task and help avoid over-application. Optional 4 different sizes exchangeable under plates for heat pressing on different size caps, including low-profile, oversize, and full or low crowns.
Product Features
Name: "Hest" MIR-PRESS
Code: HT15
Machine Type: Auto Release
Platen Size:102*203mm
Under Plate: Changeable
Base Plate Size: 15x15cm & Cap Heater
Controller: Digital Time & Temp. Control
Printable Articles: Up to 10mm thickness
with emergency stop switch
Opening Angle: 35 degrees
Gas Spring Control: Yes
Voltage: 120V/ 220V
Power: 500-1000W

Emergency Open Button

Time Range: 0-480 sec

Maximum Temp: 225 C
Temperature Accuracy: ±0.5%
Packing Size: 72*41*73cm
Net Weight: 22.50 kg
Gross Weight: 24.50 kg
Include:
1 x Hest HT15 hat heat Press Machine
Stand for Heat Press
Feature: Special for "Hest"
Height: 75.0cm-115.5cm
Material: Metal