We are the source
Welcome!
You have found the source of the most effective CIS with the highest possible quality, at wholesale prices, that is available in Australia.
Are you giving up with your printers expenses?
CONTINUOUS INK SUPPLY SYSTEM (CISS) is the solution
Available for Epson, Canon, Brother & HP printers

Next-generation leader of ink development based on the newest nanotechnology which is recognised by its quality in the world market as it expands its realm from narrow format ink to wide format ink.
MIR-AUS® is the exclusive agent of Moorim chemtech in Australia.
MIR-CISS, Ideal for homes, offices, schools and colleges
A continuous ink supply system feeds ink cartridges by way of silicone tubing. Continuous ink tank designs vary, most incorporate a constant-level barometric pressure design.
Constant-level CIS / CISS delivers a smooth flow of ink to the cartridges as needed. The front tank is vented to the atmosphere, negative air pressure in the back tank delivers ink to the cartridges.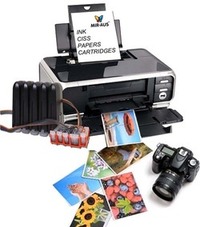 All our Continuous Ink Systems are 100% guaranteed and come with full ink tanks. CISS is a money-saving alternative for customers who do a large amount of printing.
The printer cartridges remain in place permanently in your printer and all you have to do is simply refill the CISS external ink reservoirs (see our ink refills for great quality Moorim Ink).
All the inks are supplied by Korean manufacturers.
Never run out of ink at that special moment!
Our Continuous Ink Supply Systems save up to 95% printing cost for inkjet printers (Epson, Canon, HP and Brother). These systems use no-sponge printer cartridges (except Canon) and auto-reset chips. The CISS ink tanks feed the cartridges with ink continually, so you do not need to purchase expensive cartridges anymore. Both Dye and Pigment ink and other ink types can be used with our CIS/CISS system.
All our Continuous Ink Systems are of the highest quality with the highest quality chips on the market today. The main advantage of MIR-AUS® continuous ink supply systems is that the cartridges are always full, consistently delivering even colours every time regardless of the size of the print run. Large runs of photographs or other jobs can be spooled without worrying about running out of ink. The external tanks are clear, making it a snap to refill with our refill inks any colour that may be running low.
Perfect Colour Perspective,
Super White & Water Resistant Paper!
MIR-AUS® has just prepared solutions for your paper issues too!!!!
Over 25 different types and sizes of printing paper brought to you directly from a manufacturer already duly farmed in Europe and the USA.
Works on all kinds of inkjet printer
For up to 5760 dpi definition
Excellence in colour tone, whiteness, colour perspective, detail representation
For high-grade graphic design and realistic photo output
Water-resistant and instant dry paper