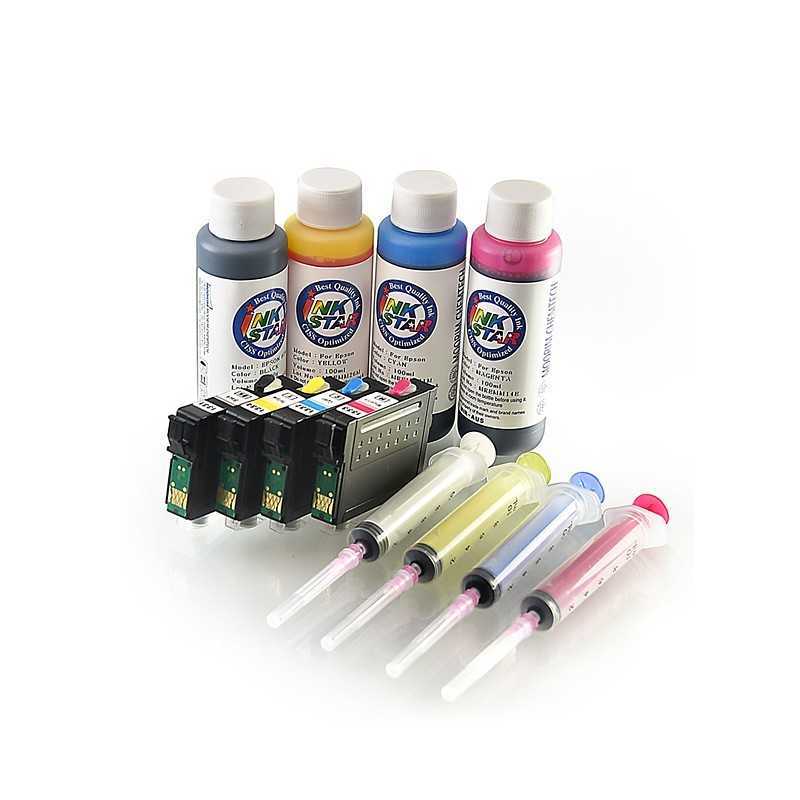  
Cartuccia d'inchiostro ricaricabili WorkForce 625
Cartuccia d'inchiostro MIR AUS ricaricabili 138 WorkForce 625 - per ulteriori informazioni vedi la voce
Security policyWe use modern SSL to secure payment
Delivery policySame business day dispatch, Fast and Reliable Shipping
Return policyPurchases can be returned within 30 days, without any explanation
Enable Follow
To be notified when this item is in stock, subscribe by email below.
You have successfully subscribed to this product
Uso cartuccia inchiostro ricaricabile per EPSON WorkForce 625
Nota: Questo kit è ricco diRicaricaInchiostroe Chipset Reset automatico.

Include:
Alta qualità Dye RefillInchiostro

INCHIOSTRO nero di 100 ml

100 ml d'inchiostro ciano

100 ml d'inchiostro Magenta

INCHIOSTRO giallo di 100 ml
Risparmi oltre 95% sui vostri costi cartuccia stampante con il nostro nuovo Inotive AB stampante cartucce ricaricabili, un'alternativa al sistema CISS le cartucce AB sono molto più facili per adattarsi alla nuova gamma di stampanti Epson.
Ora abbiamo stock nostra cartuccia stampante ricaricabili di AB per nuove stampanti, con il nostro uniquieCartuccia parte 2sistema sono ora in grado di sostituire il vostro usatocartucce facilmente e rapidamente senza dover ricaricare tutto il tempo. Basta riempire tutte le cartucce e una volta che tutte le cartucce vengono utilizzate poi ricarica.
Anche con il nostro sistema di cartuccia AB 2 parte si possono pulire le testine di stampasenza sprecare l'input penna.
Tutte le cartucce sono dotate di chip Reset automatico e possono essere reimpostate oltre 1 milione di volte,
AB ricaricabiliKit cartuccia sono dotati di 100 ml di ogni colore incluso.
Vantaggi e Benifets
-Ecologico
-Capacità cartucce 14 ml, 2,5 volte di più rispetto alle cartucce normali.
-Costo per 14 ml ricarica $1.85
-Auto Reset chip
-Moorim ™ inchiostro di alta qualità
-inchiostro di ricarica 120 ml di ciascun colore incluso.
-2 Uniquie parte sistema cartuccia per una facile sostituzione
<p >Style = "padding-top: 0px; padding-right: 0px; padding-bottom: 0px; padding-left: 0.7em; margin-top: 0.5em; margin-right: 0px; margin-bottom: 0.5em; margin-left: 0px; contorno-larghezza: 0px; formato struttura: iniziale; colore contorno: iniziale; font-weight: ereditare; stile del carattere: ereditare; font-size: 11px; font-family: inherit; vertical-align: linea di base. confine: initial iniziale 0px; ">-1 A parte con auto reset chip montato e 1 x ampia capacità di 14 ml parte B. Se si desidera B 2 o 3 è possibile aggiungerlo.
You might also like