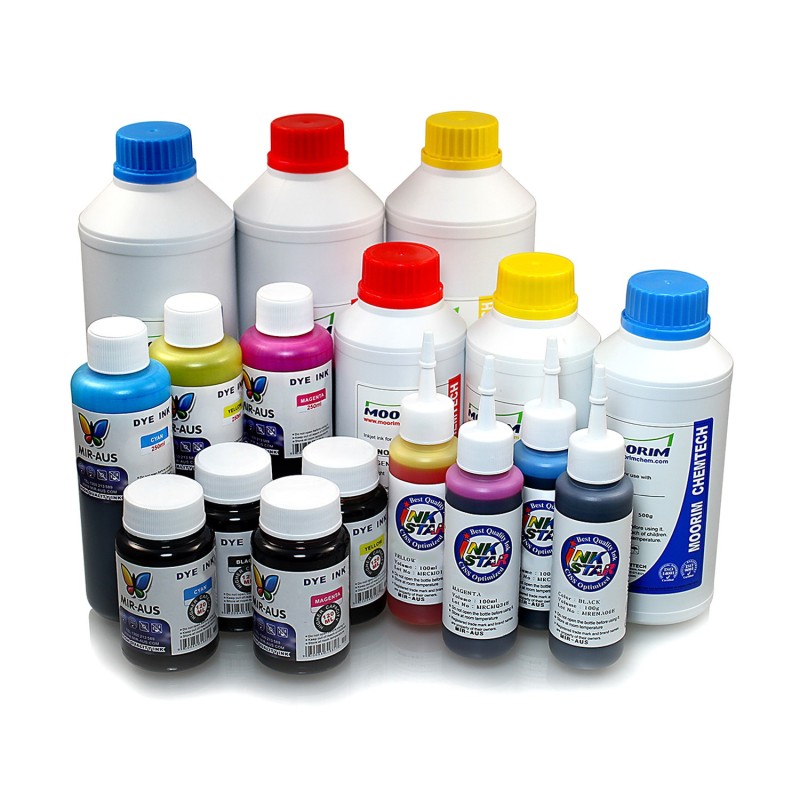  
Ricarica inchiostro Dye per Epson
Ciss Refill Dye Ink per stampanti Epson - per ulteriori informazioni visualizzare l'elemento.
Security policyWe use modern SSL to secure payment
Delivery policySame business day dispatch, Fast and Reliable Shipping
Return policyPurchases can be returned within 30 days, without any explanation
To be notified when this item is in stock, subscribe by email below.
You have successfully subscribed to this product
Come ordinare l'inchiostro:
Passo 1: fare clic su personalizzare il prodotto.
Passo 2: Riempire la quantità per il colore dell'inchiostro / dimensione della bottiglia che si desidera.
 Ad esempio: se si desidera 100ml di inchiostro nero, basta digitare "1" nella scatola.
Passo 3: Fare clic su "Aggiungi al carrello"
( Nero, Ciano, Giallo, Magenta, Ciano Chiaro, Luce Magenta, ...)
Nota: è necessaria una siringa per riempire i contenitori. (Le nostre bottiglie da 100ml Non c'è bisogno di siringhe)
Moorim High-Quality Dye  Refill Ink For Epson Printers
[100ml di inchiostro di riempimento, inchiostro da ricarico 120ml, inchiostro da riempimento 250ml, inchiostro da riempimento 500ml e inchiostro da 1 litro]
Ricaricare le tute a inchiostro epson
Tutti i marchi, le foto e i marchi sono di proprietà dei rispettivi titolari e vengono utilizzati solo a riferimento.
Informazioni sull'inchiostro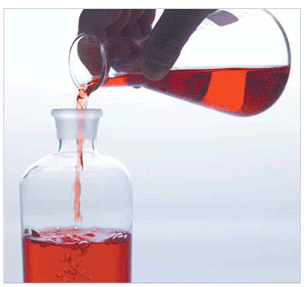 Ricaricare l'inchiostro Tecnologia avanzata
Moorim Chemtech, leader di nuova generazione nello sviluppo dell'inchiostro basato sulla più recente nanotecnologia, è riconosciuta per la sua qualità sul mercato mondiale, espandendo il suo regno dall'inchiostro a formato stretto all'inchiostro a grande formato. Oltre a Moorim Chemtech, che mantiene la tecnologia di dispersione e la tecnologia di produzione dell'inchiostro di alta qualità di livello mondiale guiderà l'industria dell'inchiostro attraverso una persistente R&S, nell'allevare professionisti e nello sviluppo della sua esclusiva tecnologia a inchiostro attraverso di essa.
Vantaggi tecnici diricaricare l'inchiostro
Possesso della tecnologia dell'inchiostro nano-pigmento attraverso la dispersione dell'inchiostro sviluppata in modo indipendente e la tecnologia di perfezionamento.
Possesso di tecnologia di inchiostro colorante altamente purificato e di alta qualità attraverso la composizione e la raffinatezza della tecnologia di tintura a getto d'inchiostro
Possesso di 50 o più di una nuova formulazione sviluppata in modo indipendente.
Moorim Chemtech sta giocando il ruolo di leader nello sviluppo della prossima generazione ricaricare l'inchiostro basato sul suo stato dell'arte, che comprende personale di ricerca eccezionale e moderne attrezzature di studio chimico.
Il pigmento prodotto dalla tecnologia cumulata di dispersione è riconosciuto dalla sua qualità stabile e dalla sua eccezionale produzione di altissimo livello al mondo.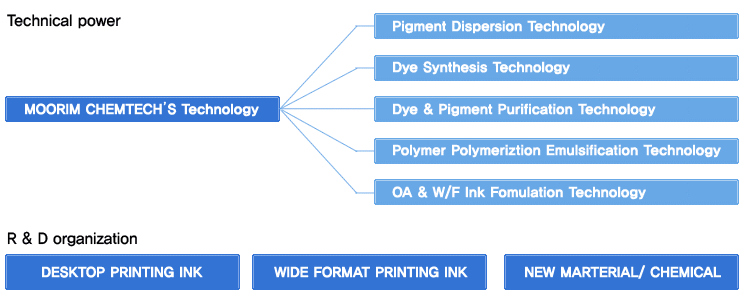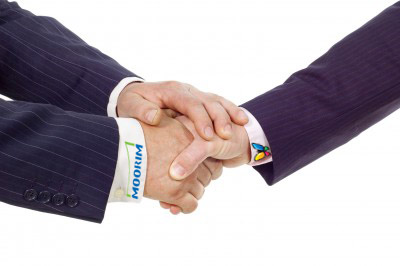 Ricarica inchiostro TECH & QUALITY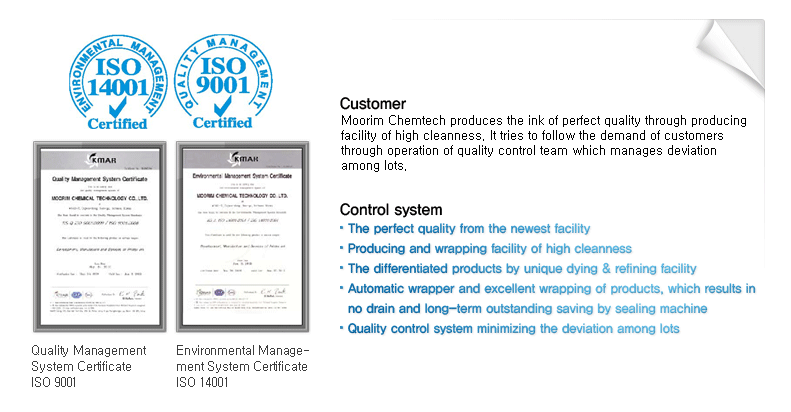 Supportati 
Ricaricare le tute a inchiostro epson

ET-2500-2550-4500-4550-2600
espressione

®

Home XP-100 , XP-200, XP-300 , XP-400 , XP-410 , XP-510 , Expression® Premium XP-600 , XP-610 , XP-700 , XP710, XP-800 , 200xl , 273 , 277

Espressione® Foto XP-850 , XP-950, XP-960 
900 , 1280 , 1270 , 1290 , TX100 , TX110 , TX200 , C110 , C67 , C87 , CX3700 , CX4100 , CX5700 , Rx650 , C79 , C90 , C92 , CX6900 5600 , CX5505 , CX5501 , CX7300 , CX7310 , CX8300 , CX9300F , Cx3900 , Cx3900 , Cx3905 , Cx4900 , Cx5500 , RX5500 , R2100 , R230 , Rx4900 , Rx4900 0 , R350 , Rx690 , Rx390 , Rx590 , Rx610 , R290 , Tx400 , Tx550 , Tx510FN , Tx610FW , Tx410 , Tx300F , T30 , Tx200 , Tx21 00 , Tx650 , Tx60 , T40W , T21 , 1410 , Tx800FW , Tx810FW , Tx700w , Tx710w , T50 , T1100 , Artisan 725 , Artisan 735 , Artisan 730 , Artisan 837 , Artis un 1430 , Artisan 635
WorkForce 7010, WorkForce 7520 , WorkForce 75010 , WorkForce PRO-WP 4590 , WorkForce PRO-WP 4090 , WorkForce PRO WP-4540 , WorkForce PRO WP-4530 , WorkForce845 , WorkForce 840 , WorkForce 645, WorkForce 545, WorkForce 435, WorkForce 320 , WorkForce N5 NX430 , Stilo NX230 , Stilo NX130 , 
WorkForce 3640 , 7610 , 7620 , 3620 , 7110 , WF-7610 , WF-7620 , WF-3640 , WF3620
WorkForce: WorkForce 30, 40, 42, 60, 310, 315, 500, 520, 600, 610, 630, 1100 WorkForce WF- 7015, WF- 7515, WF- 7525
WorkForce WP- 4015DN, WP- 4025DW, WP- 4095DN

Artigiano: Artigiano 50, Artigiano 700, Artigiano 710, Artigiano 720, Artigiano 725, Artigiano 730, Artigiano 810, Artigiano 830, Artigiano 835, Artigiano 837

TX700W, TX710W, TX720WD, TX800FW, TX810FW, TX820FWD
B: B40W, B42WD, B1100, B1110
BX: BX300F, BX305, BX310FN, BX320FW, BX525WD, BX600FW, BX610FW, BX620FWD, BX625FWD
C: C58, C59, C62, C63, C64, C65, C67, C68, C76, C77, C78, C79, C82, C83, C84, C85, C86, C87, C88, C90, C91, C92, C93, C94, C95, C97, C98, C999, C110, C901
CX: CX2800, CX2900, CX3100, CX3200, CX3300, CX3400, CX3600, CX3650, CX3700, CX3800, CX3900, CX4100, CX4200, CX4500, CX4600, CX4600 CX4700, CX4800, CX4900, CX5000, CX5700F, CX5900, CX6300, CX6500, CX6600, CX7300, CX7700, CX7800, CX8300, CX8300, CX8400, CX8300, CX8400 CX9300F, CX9400Fax, CX9500F
D: D68, D78, D88, D92, D120
DX: DX3800, DX4000, DX4200, DX4800, DX5000, DX5050, DX6000, DX7400, DX7450, DX8400, DX9400F
EP: E-600, E-700, EP-302, EP-603A, EP-702A, EP-703A, EP-801A, EP-802A, EP-901F, EP-902A
K: K100, K200
L: L100, L200, L800
ME ME2, ME20, ME30, ME32, ME70, ME82WD, ME200, ME300, ME320, ME340, ME360, ME510, ME530, ME600F, ME620F, ME900WD, ME960FWD, ME1100
NX: NX110, NX125, NX127, NX130, NX200, NX210, NX215, NX220, NX230, NX300, NX305, NX330, NX400, NX410, NX415, NX420W, NX430, NX510, NX620
P: P50, P60
PX: PX610FW, PX650, PX660, PX700W, PX710W, PX720WD, PX730FWD, PX800FW, PX810FW, PX820WD, PX830FWD, PX7-V600, PX81030
Foto: Foto 820U, 830U, 890, 900, 950, 1280, 1290, 1390, 1400, 1410, 2100, 2200
PictureMate: PM100, PM210, PM215, PM225 PM235, PM240, PM250, PM260, PM270, PM280, PM290, PM310
PM: PM-3500C, PM-4000px, PM-G800, PM-G4500, PM-G5000, PM-A820, PM-A890
R: R200, R210, R220, R230, R240, R245, R250, R260, R265, R270, R280, R285, R290, R295, R300, R310, R320, R330, R340, R350, R360, R380, R390, R800, R1800, R1900, R2000, R22400, R2880, R390, R1800000
RX: RX420, RX425, RX430, RX500, RX510, RX520, RX530, RX560, RX580, RX585, RX595, RX600, RX610, RX615, RX630, RX620, RX640, RX650, RX680, RX680, RX685, RX690, RX690, RX690, RX690, RX690, RX690, RX690, RX690, RX690, RX690, RX690, RX690, RX690, RX690, RX690, RX690, RX690, RX690, RX690, RX690, RX690, RX690, RX690, RX690, RX690, RX690, RX690, RX690, RX690, RX690, RX690, RX690, RX690, RX690, RX690, RX690, RX690, RX630
S: S20, S21, S22
SX: SX100, SX105, SX110, SX115, SX117, SX125, SX130, SX200, SX205, SX210, SX215, SX218, SX230, SX235, SX400, SX405, SX410, SX415, SX420W, SX425W, SX430, SX435, SX440, SX445, SX510, SX515, SX525WD, SX600FW, SX610FW, SX620
T: T10, T11, T13, T20, T21, T22, T23, T24, T25, T26, T27, T30, T33, T40W, T42WD, T50, T59, T60, T1100, T1110
TX: TX100, TX101, TX102, TX103, TX105, TX106, TX109, TX110, TX111, TX115, TX116, TX117, TX119, TX120, TX121, TX125, TX115, TX110, TX1103
TX200, TX209, TX210, TX219, TX220, TX230, TX300F, TX320F
TX400, TX405, TX408, TX409, TX410, TX419, TX420W
TX510FN, TX515FN, TX525, TX550W, TX560FW, TX610FW, TX620FWD, TX650, TX659