Regreso

Home

CISS for Epson printers

FAQ for Canon printers

FAQ for HP printers

FAQ for Brother printers

FAQ for Refillable Cartridge

FAQ for Heat Press

Refillable cartridges

Refillable

Ink

Piezo Nano Chrome ink

Ultra-Chrome compatible ink

Eco solvent ink

Paper

Paper

Sublimation

Sublimation ink

Subliamtion CISS

Heat Press

NEW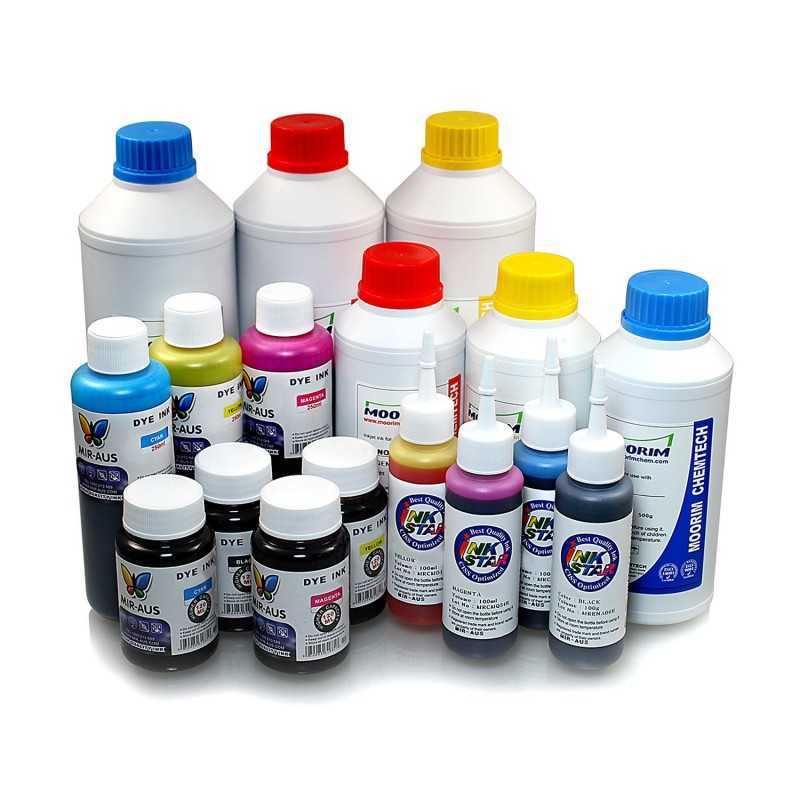  
DYE tinta de recarga para HP
MIR-AUS-recarga DYE tinta para HP-para obtener más información ver el elemento
Security policyWe use modern SSL to secure payment
Delivery policySame business day dispatch, Fast and Reliable Shipping
Return policyPurchases can be returned within 30 days, without any explanation
To be notified when this item is in stock, subscribe by email below.
You have successfully subscribed to this product
Nota: se necesita una jeringa para llenar sus contenedores.
BaronSL / tinta Moorim alta calidad DYEPara todas las impresoras de HP
Por ejemplo:
02, 88, 18, 10, 11, 564, Hp57, Hp58, Hp Hp Hp Hp Hp HP...
HP officejet pro 8500
Todos los nombres de marca, fotos y marcas son propiedad de sus respectivos titulares y se utilizan únicamente como referencia.
Información de tinta Moorim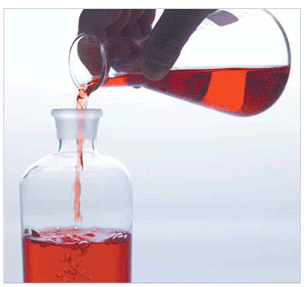 Tecnología avanzada
Moorim Chemtech, un próximo líder de la generación de desarrollo de tintabasado en el nuevo nano tecnología es reconocida su calidad en el mercado mundial como se expande su Reino de tinta de formato estrecho con tinta de gran formato. Además de moorim Chemtech quien mantiene dispersión tecnología y tecnología de producción de tinta de alta calidad de clase mundial llevará la industria de la tinta por persistentes r & D, cría de profesionales y desarrollo de su tecnología de tinta única a través de él.
Ventajas técnicas
Estar en posesión de la tecnología de tinta nano pigmento mediante tecnología de dispersión y refinamiento de tinta desarrollados independientemente.

Posesión de la tecnología de tinta de tinte altamente purificado y de alta calidad a través de compoundment y refinamiento de la tecnología de inyección de tinta colorante

Posesión de 50 o más de novela formulación desarrollado de forma independiente.
Moorim Chemtech está jugando el papel de líder en el desarrollo de la próxima tinta de generación basada en su estado del arte, que incluye las investigaciones pendientespersonal y equipo de estudio de química moderna.
El pigmento producido por la tecnología acumulada de dispersión está siendo reconocido por su calidad estable y salida pendiente del más alto nivel en el mundo.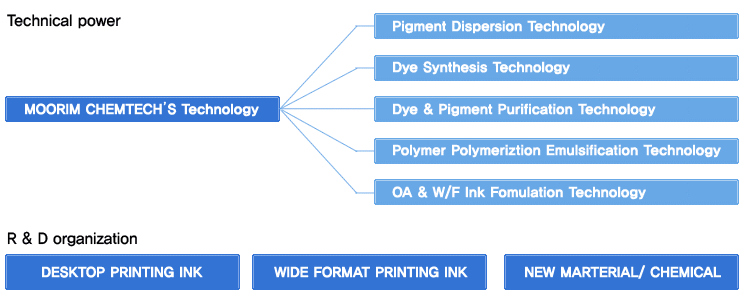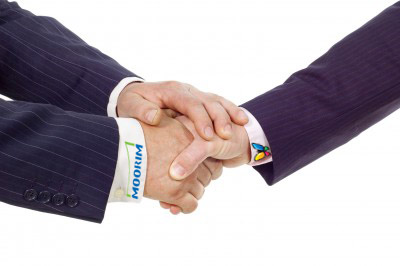 TECNOLOGÍA & calidad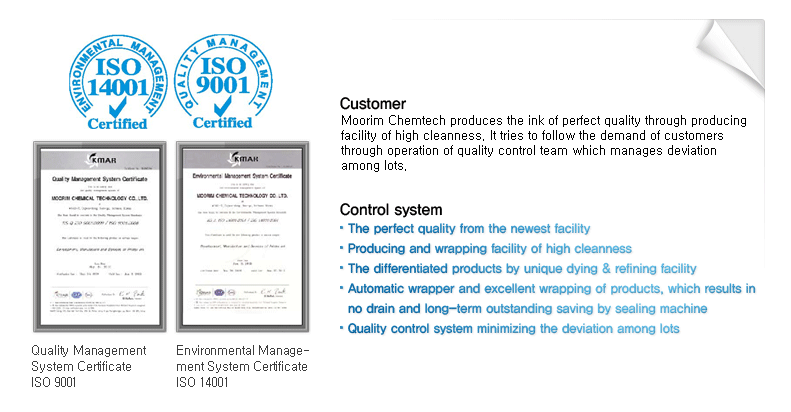 Download
Moorin tinta para las impresoras HP, hoja de datos de seguridad (MSDS) de MATERIAL colorante tinta
Download (172.48k)
Moorin tinta para las impresoras HP, tinta de pigmento de hoja de datos de seguridad de materiales (MSDS)
Download (172.25k)