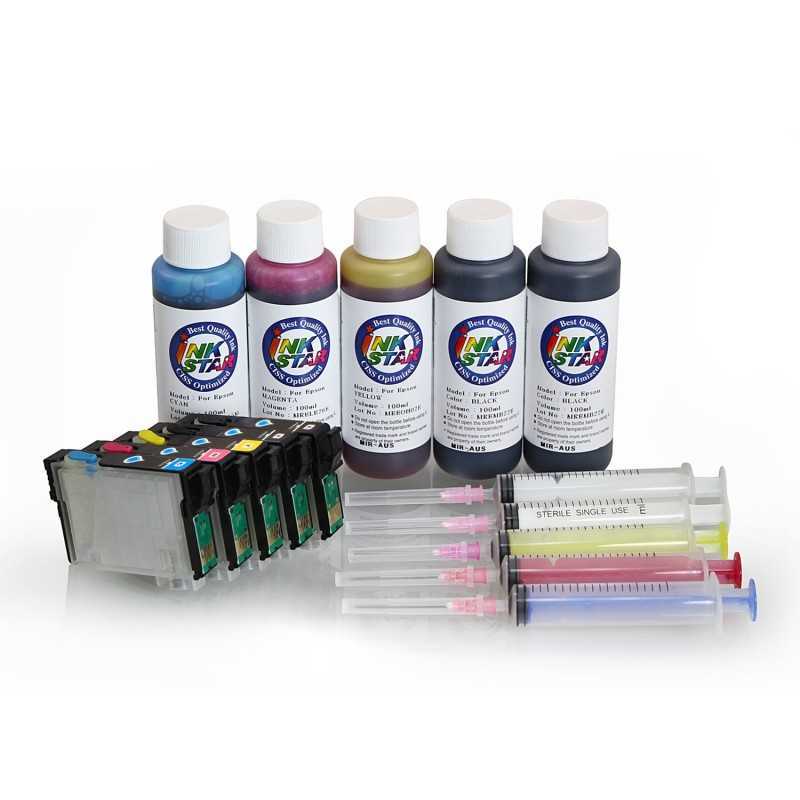  
Cartucho de tinta recargables EPSON T1100
Reference:
Refillable T1100
Cartuchos de tinta recargable para Epson T1100 - para más información ver artículo
Security policyWe use modern SSL to secure payment
Delivery policySame business day dispatch, Fast and Reliable Shipping
Return policyPurchases can be returned within 30 days, without any explanation
Enable Follow
To be notified when this item is in stock, subscribe by email below.
You have successfully subscribed to this product
Cartuchos de tinta recargables para Epson T1100
Nota: este kit está repleta de relleno meNK y auto restaurarán chipset.
(Por favor elija el tipo de tinta)

Incluye:
Tinte de la alta calidad rellenar iNK  

100 ml tinta

100 ml tinta

100 ml de tinta cian

100 ml de tinta Magenta

100 ml amarillo tinta
() Tinta piezo cromoClaria compatible) 

100 ml tinta

100 ml tinta

100 ml de tinta cian

100 ml de tinta Magenta

100 ml amarillo tinta
Ahorre más del 95% en sus costos de cartucho de impresora con nuestros nuevos cartuchos recargables impresora de inotive AB, una alternativa al sistema CISS los cartuchos AB son mucho más fáciles de adaptarse a las nuevas impresoras de la gama de Epson.
Ahora disponemos de nuestro cartucho de impresora recargables AB para impresoras nuevas, con nuestro del uniquie cartucho 2 parte sistema que ahora son capaces de reemplazar sus cartuchos usados fácil y rápidamente sin tener que rellenar todo el tiempo. Sólo llenar todos los cartuchos y luego rellenar todos los cartuchos sean utilizados.
También puede limpiar los cabezales de impresión con nuestro sistema de cartucho AB 2 parte sin perder cualquier tinta. 
Todos los cartuchos están equipados con chips de reset automático y pueden restablecerse sobre 1 millón de veces,
Kits del cartucho rellenable de AB vienen con 100ml o 120ml de cada color incluida.
Ventajas y Benifets
-Medio ambiente
-Capacidad del cartucho de 14ml, 2,5 veces más que los cartuchos normales.
-Costo por 14ml recarga $1,85
-Auto reset chips
Tinta de alta calidad-Moorim™
-100ml, 120ml de rellenar la tinta de cada color incluido (véase nuestra tinta kits de recarga)
-2 del Uniquie parte sistema del cartucho para una fácil sustitución
-1 parte A con auto reset chip equipado y 1 x gran capacidad de parte B 14ml. Si desea 2 o 3 B puede agregarlo. 
You might also like