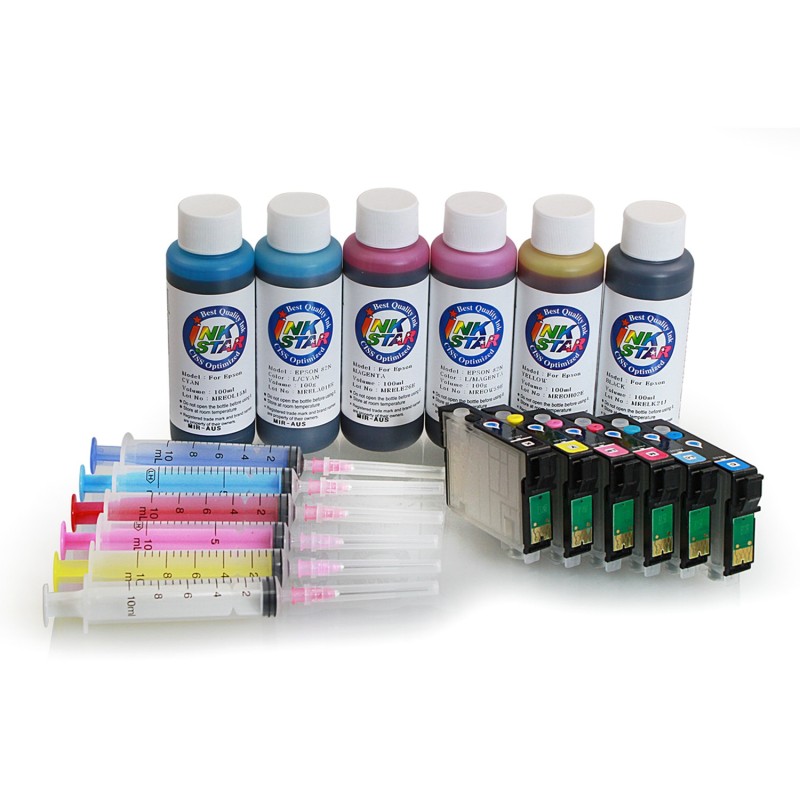  
Til genopfyldning blækpatron EPSON RX590
Reference:
Refillable RX590-hd11
MIR-AUS-Genopfyldelige blækpatron EPSON RX590 - for mere information vist elementet
Security policyWe use modern SSL to secure payment
Delivery policySame business day dispatch, Fast and Reliable Shipping
Return policyPurchases can be returned within 30 days, without any explanation
Enable Follow
To be notified when this item is in stock, subscribe by email below.
You have successfully subscribed to this product
Genopfyldelige blækpatron EPSON For RX590
Sort T0821, Cyan T0822, Magenta T0823, gul T0824, Light Cyan T0825, lys Magenta T0826
Sort, Cyan, Magenta, gul, lys Cyan, lys Magenta
Note: dette kit er pakket med refill blæk og auto reset chipset.
(Venligst valgte type blæk)

Indeholder:

omfatter: (ROBUST™ V4.0)

100 ml sort blæk

100 ml Cyan ink
100 ml Magenta blæk

100 ml gul blæk
100 ml lys Cyan ink

& nbsp, 100 ml lys Magenta blæk

Spar Over 95% på din printerpatron omkostninger med vores nye Inotive AB genopfyldning printerpatroner, et alternativ til CISS System AB patroner er meget lettere at passe til den nye serie af Epson printere.
vi nu lager vores AB genopfyldning printerpatron for den nye printere, med vores unikke 2 del patron system du er nu i stand til at erstatte dine brugte patroner nemt og hurtigt uden at skulle fylde hele tiden. Bare udfylde alle patroner og når alle patroner bruges derefter refill.
Også med vores AB 2 del patron System, kan du rense skrivehovederne uden at spilde nogen blæk.
Alle patroner er monteret med automatisk Reset Chips og kan blive nulstillet over 1 Million gange,
AB genopfyldning patroner kits kommer med 100ml eller 120ml af hver farve inkluderet.
fordele og fordele
- Miljøvenlig
-patron kapacitet 14ml, 2,5 gange mere end almindelige patroner.
-pris pr. 14ml refill $1,85
-Auto reset chips
-Moorim™ høj kvalitet blæk
-100 ml/120 ml refill blæk for hver farve inkluderet (Se vores blækrefill kits)
-unik 2 del patron system til nem udskiftning
- 1 del A med auto reset chip monteret og 1 x delB 14 ml store kapacitet. Hvis du vil have 2 eller 3 B du kan tilføje den.
You might also like